"The annual meeting with LIP's International Advisory Committee was held in Lisbon on 27-28 April. This was a special year, with a board of 11 members conducting the Laboratory's review."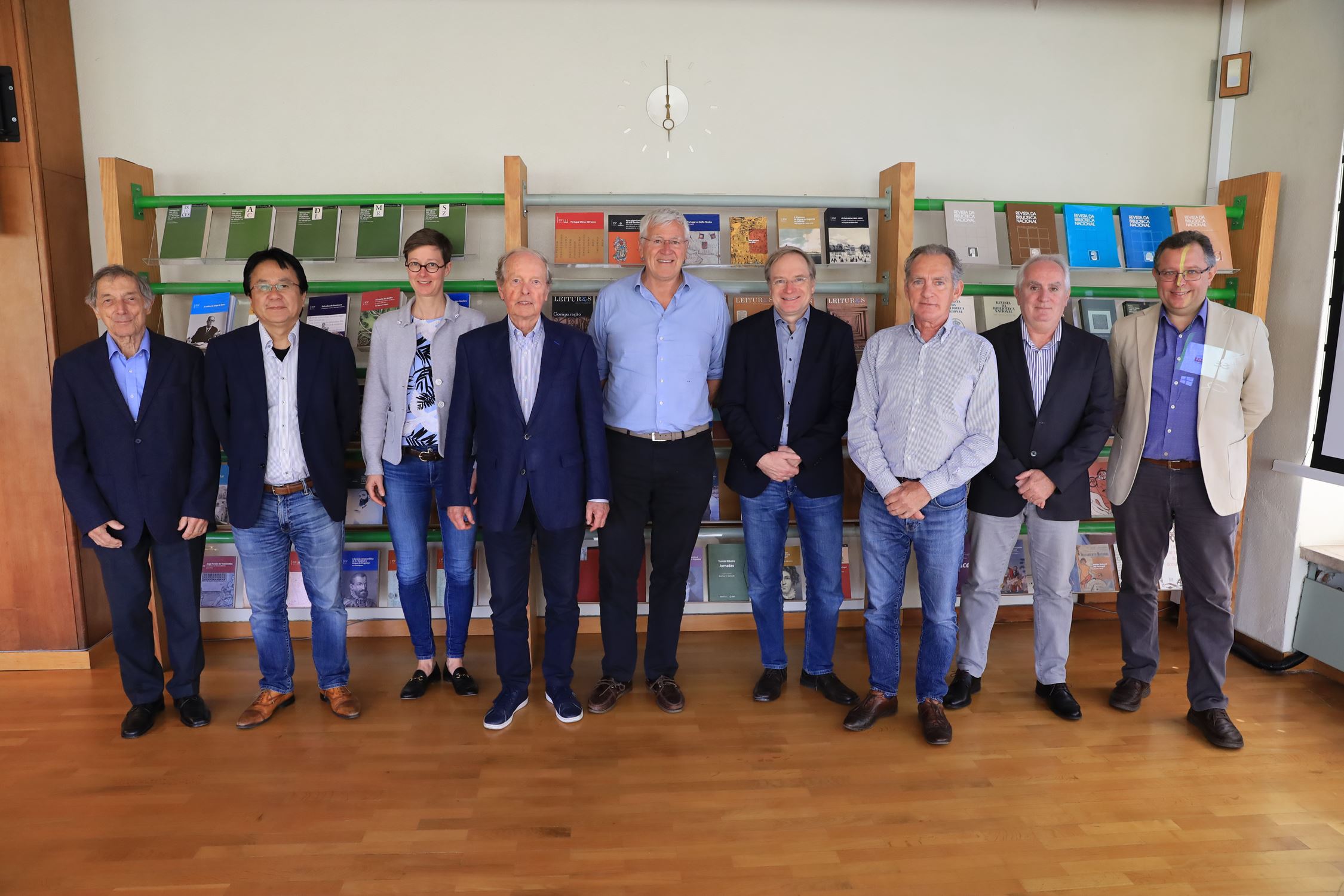 LIP's International Advisory Committee provides strategic advice to the Laboratory. The Committee is formed by worldwide recognized experts in the areas of activity of LIP who every year meet with the directorate, scientific council board and group leaders to review our 2022 activities in depth, recommending trajectory corrections and pointing out opportunities.
After a short meeting with LIP's directors' board, scientific council's board, and LIP report editors, the 1 and 1/2 days long session with all group leaders took place at the National Library. It was, as always, a very useful, interesting and instructive meeting.
In the picture above, you can see the members of the Committee that were able to be presencially in Lisbon. From left to right: Pier Giorgio Innocenti, Masahiro Teshima, Karoline Wiesner, Christian W. Fabjan, Luigi Rolandi, Werner Riegler, Eamonn Daly, José Miguel Jimenez, Jorgen D'Hondt. Katia Parodi could not come to Lisbon due to another commitment and participated all the sessions remotely (Sergio Bertolucci was unable to attend the meeting).
Back to LIP, the Committee had its closed discusson. Afterwards, they briefly reported to LIP members on their findings and conclusions. The Committee will now prepare its written report - the executive summary will arrive soon and be included in LIP's Public report; the full report will arrive later in the year.
This year, the meeting ended with get together with cheese and wine, for a heartfelt thank you to Pier Giorgio Innocenti, Christian Fabjan and Gigi Rolandi, who now terminated their already long mandate in the Committee, a welcome to Jorgen D'Hondt, José Miguel Jimenez, Karoline Wiesner and Werner Riegler, who now started their work.
(Foto: Agostinho Gomes)